CROSS-IT project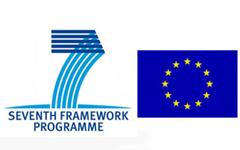 The CROSS-IT project aims to develop new technology based on Ultrasonic Guided Waves to inspect the concrete structure and steel reinforcements for dangerous levels of age-related degradation that can be caused by water ingress into surface cracks resulting in corrosion of internal steel re-bars and reinforcement. Advanced Ground Penetrating Radar (GPR) will be used to locate the internal steel re-bars and reinforcement and to compliment the Ultrasonic Guided Wave technology.
The developed Guided Waves technology will be able to scan the concrete and display the results as a visual map on a connected laptop. The laptop will run a purpose designed condition monitoring program based on advanced artificial Intelligence like a Neural Networks to match the ultrasonic patterns. CROSS-IT system could be also permanently installed to the bridge structure to enable a real time structural health monitoring system.
CROSS-IT project has received funding from the European Union's Seventh Framework Programme managed by REA Research Executive Agency ([FP7/2007-2013]) under grant agreement no 286981.
Please refer to the EU Seventh Framework Programme website if you wish to know more about FP7.
Extras